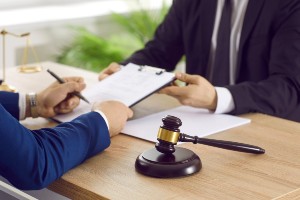 Most injury victims hire an accident lawyer to help them navigate the complicated legal process that comes with filing a personal injury claim. However, not every client is satisfied with their attorney's representation. If you aren't happy with your situation, you might wonder "can I change my accident lawyer?"
When faced with such dissatisfaction, many clients wonder if they are stuck with their current lawyer until the end of their case, or if they can change lawyers. This blog post will help you understand if it is possible to switch lawyers and what steps you can take to do so.
You Have a Right to Change Lawyers
First, it's essential to understand that changing your accident lawyer is possible and within your rights as a client. You have the authority to terminate your lawyer-client relationship at any time, for any reason. You won't be penalized for it.
However, before making a decision, it's crucial to assess your situation carefully. Ask yourself what your issues are with your current attorney. Determine whether they stem from the attorney's poor performance, lack of communication, or personality differences. Understanding the nature of the problem will help you find a better fit with another attorney.
Find a New Lawyer Before Firing Your Original Lawyer
Next, it's wise to seek a new lawyer before terminating your relationship with your current one. If your current lawyer is doing a poor job, find a new attorney who is willing to take over your case.
Once you find a lawyer, they will help you terminate your relationship with your previous attorney and take over your case promptly. The less time you spend between lawyers, the better it will be for your case. Your new attorney should be able to help you with this process.
In most cases, you won't need to worry about the financial implications of switching. Personal injury attorneys in contingency fee arrangements typically do not charge a client for their services until they win a settlement or verdict in their case.
If a lawyer rejects your case, they likely believe they won't be able to win it or make money off of it. In most cases, you will not accrue any additional charges for changing lawyers.
Be Honest with Your Current Attorney
Finally, it's worth noting that ending a relationship with your current attorney can be tough, especially if there have been disagreements. There are some best practices to help you protect your relationship and make the process smoother.
Start by telling your current lawyer that you intend to terminate your relationship and the reasons why. Provide them with the opportunity to fix any issues they can, if they can. If they cannot or will not fix these problems, fill out an official termination letter and send it to your lawyer's office.
Finding the Best Attorney for You
Overall, switching personal injury lawyers is possible and should not be a complex process.
If you're not happy with how your current lawyer is handling your case, find a new attorney as soon as possible. Discuss your concerns with the new lawyer before ending the relationship with the current one. This way you can be sure that you're making the best possible decision.
Changing lawyers can be a tough process, but the benefits of being represented by an effective personal injury lawyer may justify it in the long run. If you're unhappy with your current situation, we can help. To schedule a consultation with an experienced personal injury attorney, contact Shugarman & Mehring at 410.783.4200 or toll-free at 888.342.7200.